With the photo 'Jan' I won the NRC Photo Contest. The interview that came with it, was published on the website of the website of the national newspaper NRC.
The whole interview in Dutch:
"De fotograaf heeft een goede positie; door de vele details, krijg je echt een kijkje in iemands leven", luidde het commentaar van de jury. En: "Hoe langer je kijkt, hoe meer je ziet. En hoe meer vragen het oproept."
"Jan is mijn buurman in Leiden", vertelt Lenny Waasdorp over haar winnende foto 'Jan'. "Hij is 85. Negen jaar geleden is zijn vrouw overleden, sindsdien is hij alleen. Af en toe loop ik eens bij hem binnen; dan maken we een praatje en eten we samen wat. En soms vraag ik of ik een foto van hem mag nemen."
"Vroeger handelde Jan in antiek. Hij houdt nog steeds van oude spulletjes. Maar laatst was hij gevallen met z'n scootmobiel. Daarom lag hij op bed, midden in de huiskamer. Ik had een icepack voor hem gehaald. Dat ligt op z'n enkel, onder de theedoek."
Directe leefomgeving
Waasdorp volgde de Koninklijke Academie voor Beeldende Kunsten in Den Haag, studeerde aan de kunstacademie in Istanbul en deed nog een postacademische kunstopleiding. Ze wil zichzelf beslist geen fotograaf noemen. "Daarvoor mis ik de techniek. Ik ben volledig autodidact. Ik heb ook helemaal geen dure spullen. Ik heb geeneens een flits."
Haar foto's zijn beelden uit haar directe leefomgeving. "Dat is waar ik mijn inspiratie vandaan haal. Ik ga niet op zoek naar onderwerpen; de onderwerpen zijn er al. Op een gegeven moment krijg ik de behoefte om ze te fotograferen. Dat gebeurt organisch – óf het gebeurt niet."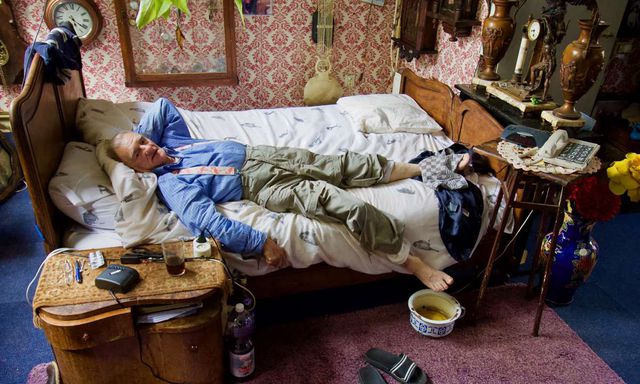 Spoorlandschap
Zo werkte Waasdorp een paar jaar parttime als conducteur op de trein. In die tijd maakte ze – met haar diensttelefoon – foto's vanuit de achterste cabine. "Ik heb geprobeerd om de eindeloosheid van het spoorlandschap te laten zien, maar ook de eenzaamheid van het werken op het spoor. In die cabine mogen geen reizigers komen, daar zit je helemaal alleen. Dat was op dat moment mijn leefomgeving. Dan is het voor mij bijna logisch dat ik het ga fotograferen." Het zwart-wit resultaat is te zien in het fotoboek 'Station to Station to Station'.
Uitpuilende ogen
Waasdorp maakte ook zelfportretten. 77 stuks, in kleur, in haar eigen studio. Geen mooie plaatjes, maar bewerkte, soms ook bewogen beelden met uitpuilende ogen, openhangende monden en gehavende neuzen. "Het was mijn zoektocht naar identiteit. Of je nu conducteur bent op de trein, of je drinkt thee met de buren, of je opent als kunstenaar een expositie: je bent het allemaal zelf, maar toch gedraag je je telkens anders en word je anders gezien. Dit was mijn manier om dat uit te zoeken."
Op zoek naar het kwaad
Een andere zoektocht leidde tot de fotoserie 'See No Evil'. "Ik zag een filmpje over een Vlaamse seriemoordenaar. Die man was tekenleraar. Dat intrigeerde mij, want ik zat natuurlijk ook op de academie. En hij zat gewoon op een verjaardagsfeestje. Nergens gingen alarmbellen rinkelen. Logisch, want je kan aan de buitenkant niet zien wat iemand allemaal doet. Het kwaad heeft geen gezicht. Maar ik wilde weten hoe dat kwaad er dan toch uit zou kunnen zien."
Dus vroeg ze familie, vrienden en mentoren van haar kunstopleiding of die voor haar wilden poseren. Ze fotografeerde hen met ontbloot bovenlijf en een nylonkous over hun hoofd. "Alsof ze criminelen waren. De typering van het kwaad." Ze werkte hierbij met een pinhole camera, dus zonder lens, met slechts een klein lichtgaatje. "Die mensen moesten vijf minuten doodstil zo blijven zitten. Eigenlijk heb ik ze al die tijd gevangen gehouden. Het zouden dus net zo goed slachtoffers kunnen zijn. Dat is een mooie extra laag in de foto's."
Seriewerk
"Mijn beelden tonen een beetje de rauwheid van het bestaan", zegt Waasdorp. "Dat zie je terug in vrijwel al mijn werk, en eigenlijk ook in het portret van Jan. Het is een heel realistische foto." Én ze houdt van series maken. Zoals ze deed met de zelfportretten en spoorlandschappen, maar bijvoorbeeld ook met boorplatformen. "Als je een aantal van dezelfde voorwerpen bij elkaar in een serie zet, worden het haast personen. Dan krijgen ze bijna een identiteit."
Een serie van Jan, zit die eraan te komen? "Als hij het leuk vindt ga ik dat zeker doen. Jan is voor mij heel dichtbij. Dat vind ik toch wel het fijnst om te fotograferen."